For long-time iPhone users, it is common knowledge that Apple has stubbornly stayed away from shipping any native capabilities to record phone calls. For many professionals like Journalists, Market Researchers or anyone conducting a phone interview, recording a call is an essential requirement that can end up saving a lot of note-taking effort during the interview.
Apple, has cited privacy-related considerations to deny native call-recording capabilities in iPhones. For a company that has often taken revolutionary, or ridiculous feature decisions, depending on whom you ask, this should hardly raise many eyebrows. For a company that makes billions of dollars in revenue, it is not our place to question decisions made by their Product Design team.
But surely there must be some way to record phone calls for iPhone users? Of course there is. We will talk about that and specifically about how to record call on iPhone without app.
Apps
Make no mistake, there are call recording apps on the App Store too. But unlike their Android counterparts, such apps take an indirect route to recording phone calls. To put it very simply, an Android call recording app has access to the sound stream during a call, which they can record and save for you. The iPhone does not allow access to its sound stream to any app. Hence there aren't any native call recording apps on the App Store.
Apps can have other problems too. The chief among those are compatibility issues. What works for the iPhone 6s might not work for the iPhone 7, unless the app developer has made necessary fine tuning. In case you upgrade your iOS from 10.0 to 10.0.1, some of your apps might suddenly stop working.
If the app stores data locally to your phone, then there always is a risk of losing data in case you lose your phone. Moreover a call recording stored locally to your phone is not very easy to share with your peers and collaborate.
How to Record Call on iPhone without App
To answer how to record a call on iPhone without app, it is to have a three-way conference with a telephony service that will record the line and save it for you. As complicated as it sounds, it is in fact as simple as making a regular phone call on your iPhone.
The only pre-requisite is that you should be able to make three-way conference calls on your iPhone. This is actually possible in almost every iPhone and with every telecom operator in the United States.
There are a number of services out there that can help you record your calls using this method. One of those is our call recording service, Recordator.com.
How to Record Call on iPhone without App using Recordator.com
Recordator.com is a web-based service that you can use to record phone calls on your iPhone. You do not need to install any apps; in fact we do not have an app. It works on any iPhone – iPhone 4, 4S, 5, 5C, 5S, 6, 6Plus, 6S, 6S Plus, SE, 7 and 7 Plus.
You can record your outgoing calls, incoming calls as well as conference calls using Recordator.com.
Below we tell you how to record a call on iPhone without app using Recordator.com
Recording Outgoing Calls
Step 1. Sign up
Create a free account at Recordator.com. It hardly takes a minute and we do not ask for your Credit Card details either. You also get 10 minutes of free call recording when you sign up.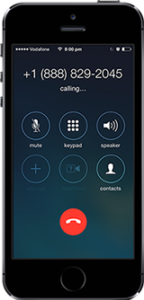 Step 2. Call us on our Toll Free Number
Once you have signed up, place a call to our toll free number – +1-888-829-2045. Please note that this is best suited if you are in the United States. If you are not in the United States, you can use these other methods to record phone calls.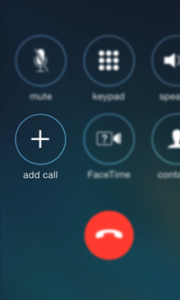 Step 3. Add the intended Recipient to the Call
Once the call connects to our number, use the "add call" button on your phone to call your recipient.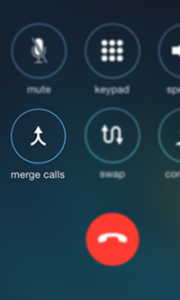 Step 4. Merge the Calls
When the call connects to your recipient, press the "merge calls" button on your call screen. This creates a three-way conference with your call recipient, you and our service. The sound stream received by our service is then recorded and saved to your account.
Step 5. Listen to your Recording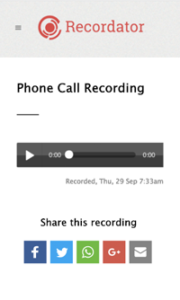 The call recordings you make are available in your account at www.recordator.com. You can listen to your recordings, download a recording in MP3 format or share it online with others to collaborate.
The call recipient will see your number on her phone, similar to receiving a regular phone call.
If this is not for you, there are other ways to record your calls too. Also check out how to record incoming calls and how to record conference calls. Please read about the frequently asked questions, pricing details and legal implications of call recording.
If you are ready to try out our service please click the button below. Happy recording!
Record my Call